Hestercombe Centre for Young Musicians Open Day and Lunchtime Concert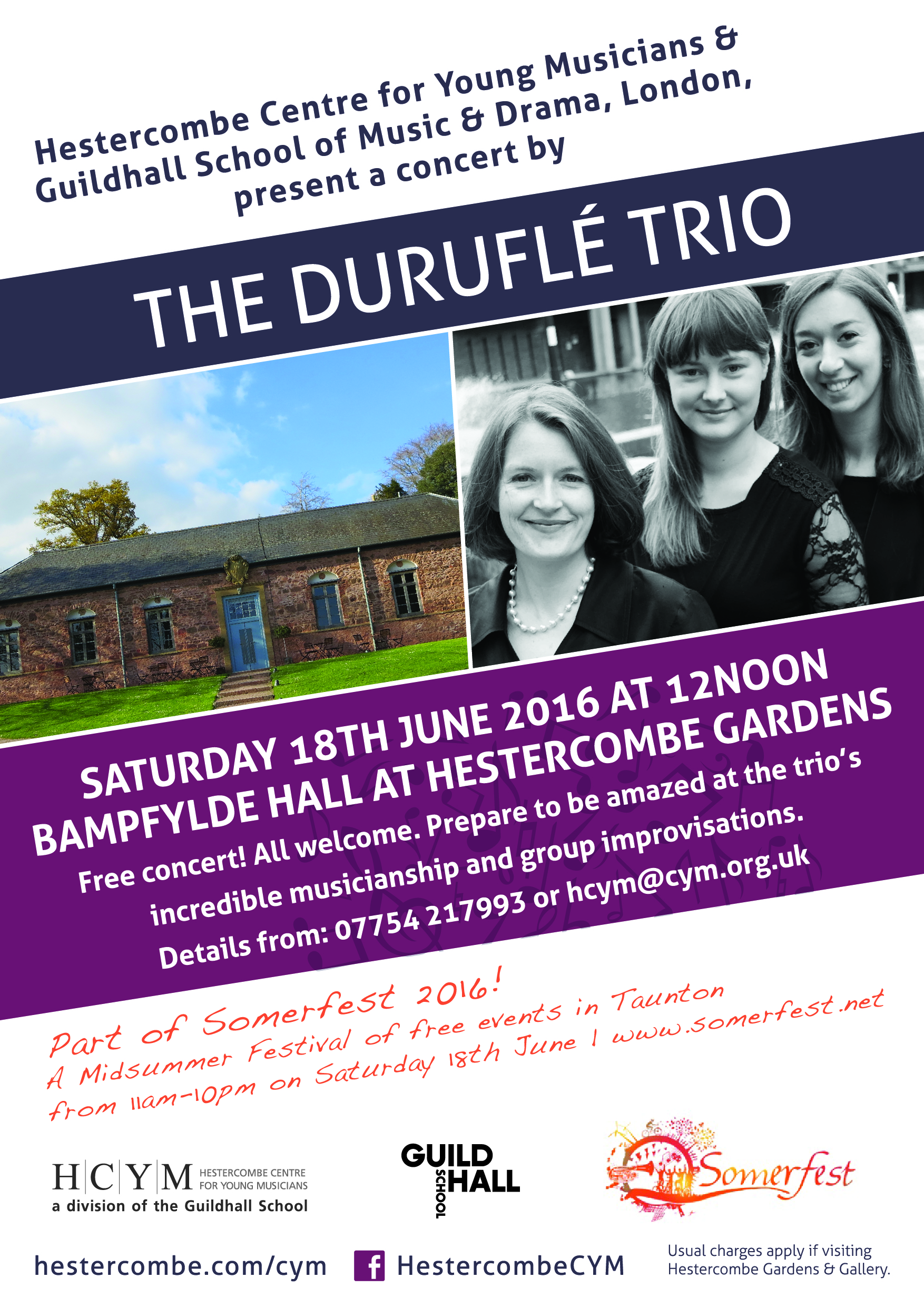 Following on from the successful event in May, the Hestercombe CYM is holding another Open Day on Saturday 18th June including a fantastic, free lunchtime concert by The Duruflé Trio from the Guildhall School of Music & Drama in London.
Student places for September are filling up fast and we are delighted to offer another opportunity to experience this fantastic and fun Saturday music school based at Hestercombe Gardens.
As before, aspiring young musicians (aged 5-18) attending the open day have the opportunity to take part in free workshops and enjoy a free taster lesson on a wide variety of instruments:
guitar, bass guitar, singing, piano, flute, clarinet, saxophone,
recorder, oboe, bassoon, violin, viola, cello, double bass,
harp, cornet, trumpet, French horn, trombone and drums.
Booking for the open day is essential: tel. 07754 217993 or email: hcym@cym.org.uk
The lunchtime concert is part of Somerfest 2016 [www.somerfest.net] and will be given by The Duruflé Trio who are postgraduate students from Guildhall School of Music & Drama in London, performing on flute, viola and piano. The concert will be held at 12noon in the Bampfylde Hall at Hestercombe Gardens and it promises to be absolutely excellent. Each member of the trio is a keen improviser and they include trio improvisations as part of every performance.  The trio's recent concert at Honiton Festival was fantastic and we are really lucky they are visiting the West Country again. Free admission to concert and everyone is welcome – no tickets needed – just be seated by 11.50am or it may be standing room only.  Normal admission charges apply if visiting the Gardens & Gallery at Hestercombe. FFI: 07754 217993.
Did you know?… The Hestercombe Centre for Young Musicians is part of the Guildhall School of Music and Drama and children of any age (5-18) can enjoy a professional and well-rounded music education each Saturday during term time for just over £5 per hour.  Book now for the Open Day by calling 07754 217993.