From March 18th-22nd The Castle School in Taunton will be hosting the next in the annual series of music residencies run by Actiontrack Performance Company.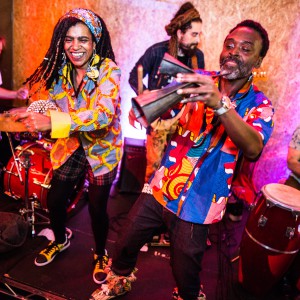 Supported by Somerset's music education hub 'Sound Foundation Somerset', Actiontrack are bringing international Ghanian Afro-Fusion band 'Yaaba Funk' to work with students at Castle.
'This is a fantastic opportunity – students will get first-hand experience of new and exciting ways of making music' said Nick Brace, Actiontrack's Artistic Director, 'they will learn how professional musicians from different backgrounds put their music together and get the chance to work with a band at the top of their game'.
Yaaba Funk have been described by The Independent on Sunday as ' a band at the athletic peak of their powers'. Their sound  starts with Hi-Life, the upbeat Ghanaian dance style, and brings in James Brown grooves, Sun Ra jazz, Parliament-Funkadelic jams, and more than a hint of mind-altering dub.
This residency will climax with a public performance in Castle School hall on the last night – Friday 22nd March 7.30. Tickets start at £7 and are available through www.skiddle.com Further information from Actiontrack 01823 286107.