Cheddar Valley Music Club and Somerset Music invite you to a day of music making with internationally renowned 'Bones Apart'!
International Trombone Quartet:"musically and technically world class" Jay Friedman Principal Trombone, Chicago Symphony Orchestra
Wednesday 15th May 2019
Workshops 1pm – 5.30pm
Kings Fitness and Leisure Centre, Station Rd, Cheddar BS27 3AH
Workshop One
For Trombone, Baritone, Euphonium and Tuba players Grade 6+
Workshop Two
For Trombone, Baritone, Euphonium and Tuba players Grade 1 to Grade 5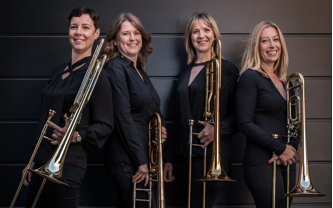 All players attending the workshops are required to attend the evening concert, as items rehearsed during the day will be included in the concert.
Evening Performance 7.30 The Kings Theatre Station Road, Cheddar, Somerset, BS27 3AQ
The Workshop will take place at the Kings Fitness and Leisure Centre, Station Rd, Cheddar BS27 3AH on Wednesday 15th May 2019, 1.00pm – 5.30pm. There will then be a break for tea, to get changed, move things into the Kings Theatre, Cheddar (just across the campus of the Kings of Wessex Academy) and set up for the concert. The Concert will start at 7.30pm.
There will be two different workshops. – one for players Grade 6 and above, and one for players who need not have taken an exam, but should be between Grade 1 – 5 standard.
The cost of the workshop includes the participant's ticket to the concert. All those taking part in the workshops must attend the concert as they will be performing pieces rehearsed with the quartet in the afternoon. Tickets for friends and family are on sale now from Anne Higgs 07790 576132. Tickets are priced at £10 for adults and £7 for concessions.
You do not need to wear school uniform but will need some smart clothes for the concert in the evening (no jeans, trainers or logos). You will have time to change if you want to.
You will need to bring with you:
1, Your Instrument
2, A Music Stand labeled with your name
3, Packed tea and something to drink (There is a café in the Leisure Centre if you prefer)
4, Smart clothes for the concert
You don't need to bring any music with you: it will be given out on the day.
If you would like to attend the workshop and concert please complete the attached form and return it ASAP but before Wednesday 24th April. Places are limited and will be issued on a first come first served basis. Please assume that you have been accepted unless you are contacted.
Please ensure that you post your application to Anne Higgs, Bones Apart, Cheddar Valley Music Club, The Kings of Wessex Academy, Station Road, Cheddar Somerset, BS27 3AQ, do not give the form to your instrumental tutor. The cost for the day will be £10.00; cheques should be made payable to Cheddar Valley Music.
Click here to fill out your application – Bones Apart Workshop Application Form