Somerset Music
01823 348262.
|
somersetmusic@somerset.gov.uk
|
www.somersetmusic.somerset.org.uk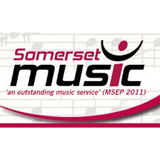 Somerset Music has a proud history of delivering a variety of high quality music services to children and young people across the county. At the most recent Music service evaluation partner inspection in 2011 Somerset Music was awarded outstanding.
Somerset Music delivers a range of whole class and large group music tuition in a variety of instruments including brass, strings, wind instruments, steel pans and samba. In the main, these sessions are delivered to children in Key Stage 2 but the service can also work with groups of older children as they progress through their education.
Somerset music has been responsible for running the Somerset County Youth orchestra, concert band and youth choir, as well as local and county ensembles and large scale events such as the Wells Chrismas Concerts and Music Spectaculars.
Somerset Music are reputed nationally for their music technology provision and deliver in the county's special schools with great success.
Somerset Music offers low cost instrument hire to children and young people across Somerset.
There were no results found.