Hullabaloo – November 15th – 22th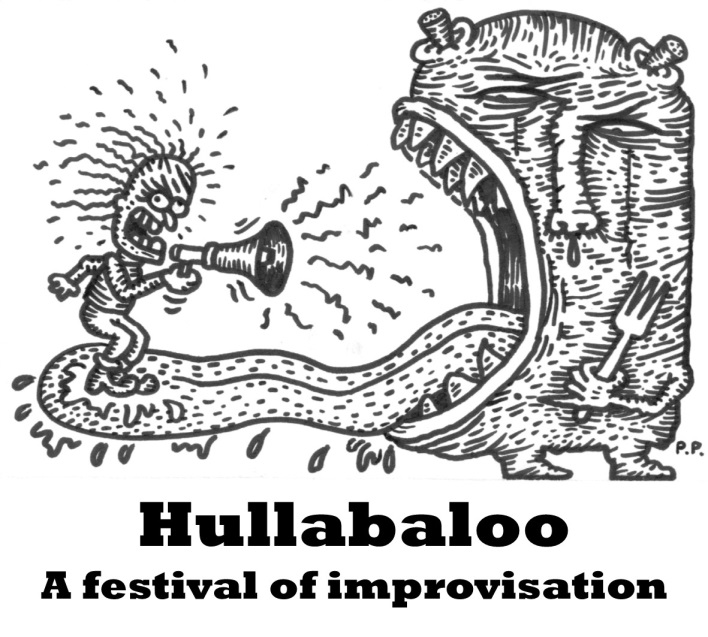 Hullabaloo is a celebration of sound, music making and improvisation. The festival explores improvisation, how we 'make it up as we go along', a key part of our creativity, in music, in art and in life and invites people to join in. Events range from family workshops, performances by internationally recognized musicians, instrument makers, beatboxers, jazz and rock bands, electronica, debates, visuals, films and talks. Hullabaloo will be wild, unpredictable, fun and provocative.
For more information contact Tim Hill, milton3hill@yahoo.co.uk 01823490219
Wednesday 15th November. Whispers and Cries, Songs and Sighs. 7.30. Free
An evening of atmospheric sound exploration and solos, with Hannah Earl and Tim Hill. North Curry Methodist Church. North Curry, Taunton.
Thursday Nov 16th. Spontaneous Combustion. 7.30 – 10pm £4
Performances, games, debate and play, exploring ideas of spontaneity, freedom of expression and improvisation. With live visuals from Richard Tomlinson, Brazen Head, Michael Fairfax, Jules Bushell, Dom Beatbox Buck and more
Friday Nov 17th. The Noise Eating Monsters. Jon Cooke & kek-w
Doors open 7.30 £9/8
Improvising trio making a deliriously rhythmic racket, the 'Monster's collective credits range from Squarepusher through Derek Bailey to Lee 'Scratch' Perry. Plus dystopian drum & bass producer DJ/producer John Cook and local noise musician and artist kek-w
Saturday 18th Nov
Family Playtime.  10 to 11.30am. free
Sound workshop for children their family with Tamsin Mendelsohn
Lunchtime 12.30 Sonic Café featuring Alex Ward on clarinet. £4/3
One of the world's finest free improvising clarinet players. 'deft and utterly mesmeric' The Guardian
Afternoon 2 – 4 pm Hullabaloo Improvising Orchestra. free
Open workshop to create an improvising orchestra,
Informal concert by Hullabaloo Improvising Orchestra. Free 4.30,
Lost in the Stars with The Multiverse Ensemble plus DJ and projections. Doors open 7.30. £9/8
An evening of cosmic jazz, out of this world sounds and intergalactic funk, inspired by the music of the great big band leader Sun Ra.
Tuesday 21st Nov
Hullabaloo – Vocal improvisation workshop. 7.30 – 9.30. £5
CIC Creative Innovation Centre. Memorial Hall, Paul St, Taunton TA1 3PF